Heifer Management
To help dairy businesses capture the opportunity of well-grown heifers, AgriSpecialists is now offering a Heifer Management Programme throughout Northland. This new service is designed to deliver healthy heifers at target live weights; heifers capable of producing to their genetic potential. This service can be tailored to fit with the dairy farmer client's current heifer rearing system and can provide:
Full management to achieve target weights – including securing grazing, live-weight monitoring and reporting, animal health, and if required mating management.
Weight monitoring and reporting, animal health and mating management – for example where the dairy farmer has existing grazing either at their own run-off or with a grazier.
Weight monitoring and reporting – we can track heifer progress at home, at run-offs or with a grazier. Start right now to get an idea how well grown your heifers are for this mating.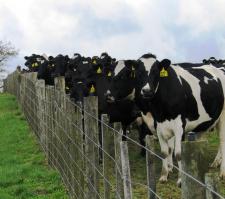 "One of the issues we see across Northland is how many dairy businesses struggle to rear their dairy replacements to target live weights. Probably 70-80% of all heifers across Northland are failing to calve at industry target weights.
Failing to reach these targets results in late calving heifers, a delay in heifers getting back in-calf, lower life-time milk production and potentially good animals being culled before their time – all costly to the bottom line."
AgriSpecialists' Heifer Management Programme can:
Source and supervise quality grazing in Northland. Sourcing good grazing and staying in touch with young stock when they're off-farm is where it all starts with reaching target liveweights. We are looking for good stockmen as our graziers; farmers who take pride in growing young stock. And we will ensure they are well rewarded for their care and attention.
Organise supplementary feeding as required to achieve critical growth targets. Maintaining growth rates through    3 to 9 months of age is important if target mating weights are to be achieved. We will liaise with graziers to ensure supplements such as PKE and silage are available to calves when pasture quality or quantity is insufficient to meet targets.
Provide a best-practice animal health care regime. This includes drenching, trace elements and vaccinations; a preventative programme will be delivered to ensure animals realise their growth potential. And the all important zinc protection will be provided when the threat of FE is present.
Undertake regular weighing and reporting against specific target liveweights.  Visual estimation of the weight of growing heifers is unreliable. Heifers can look in good condition, shiny and appear to be blooming without actually growing at all. Weighing animals certainly doesn't make them any heavier, but it does focus the mind on the actions required to achieve the target.
Uploading live-weight data to MINDA Weights. With EID tags, electronic scales and the internet we can quickly have your heifer liveweight information available in MINDA for viewing in graph format.
Supply tested and vaccinated breeding bulls, and other mating programme management as required.Heifer mating is happening when it's all-go with the milking herd; let us help get this well organised.
Ensure a win-win grazing agreement is in place. We can put in place incentive grazing agreements where payments are based on achieving target weight gains, so everyone knows what is expected.
Give us a call if you are interested in knowing more about our Heifer Management Programme. Grazing for calves and R2 year-old heifers is available this November; and more is available in autumn 2014. We are ready now to take bookings for heifer live-weight monitoring. Or if you have other ideas about how we can assist your young stock reach their full potential contact Graham Hodgson on 021 434 620 or email graham@agrispecialists.co.nz.
"The business of agriculture is increasingly more complex!"
Contact us now to schedule an appointment.